Answer is NO2+BF4- and NO2+NO3- are all these same including given by you ?
@abhijit_2020
All of these can form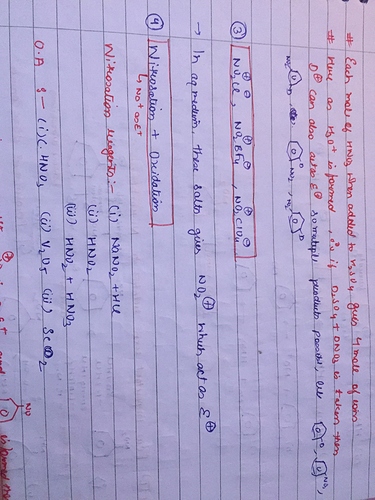 Point 3 Is your answer
Point 4 results in No+ and then when further oxidised then No+ changes to No2+ (but here attacking electrophile is No+ not No2 + )
This produces NO+ ion , further when oxidising reagent is added then it leads to NO2 +
Q2||
A) Sulphonation is reversible whereas other ( excluding iodination ) is irreversible.
B) Also kinetic isotopic effect is observed in suphonation whereas in others ( excluding iodination ) it is not observed .
Q3||
Because halogens are deactivating group , yet they are ortho parra directing because of their +M effect
2||
Nitrobenzene contains an electron-withdrawing nitro group directly bound to the phenyl ring, which serves to deactivate the aromatic ring towards electrophilic aromatic substitution. And of course, a lack of reactivity is required of a solvent in an organic reaction. It is also relatively high boiling, (>210∘C), so this means you can heat the reaction up high to get it going.
3|| fluorination is highly exothermic and hence reaction becomes explosive
1|| lone pair of pyridine is localised whereas lone pair of aniline is delocalised and hence pyridine is more basic

For 4th hence the answer should be
Phenol> phenylacetate> acetophenone
Question no 27 and 28 i couldn't understand the question is it asking which is more stable of the following or most contributing structure
In question no 49 i think answer should be option A only but answer key says option D but if option D is correct then option D should have been both a and c
Greater is the stability, greater is it's contribution in resonance hybrid